What's Crackin': Death Star VS Cut4Bieber
This Week In Stuff (Top 5)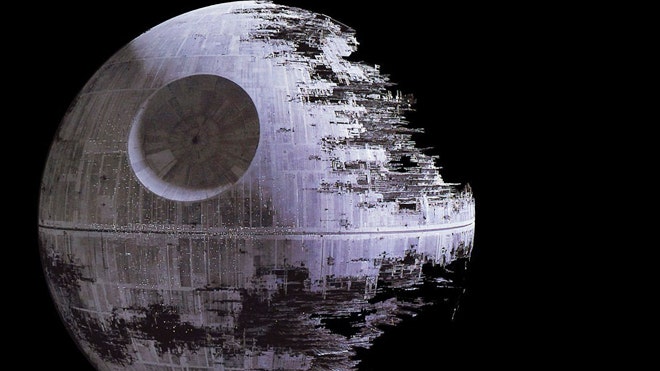 1. Death Star Plans Rejected by White House - After a recent online petition to begin construction of a real life Death Star reached over 25,000 signatures, the White House responded with an official rejection letter. In response to the estimated $850 quadrillion dollar project, government officials state they are "trying to lower the deficit, not raise it." and to much of our surprise "the administration does not support blowing up planets." They crushed our dreams and then came correct with, "Why would we spend countless taxpayer dollars on a Death Star with a fundamental flaw that can be exploited by a one-man starship?" Touché, White House, touché.


2. 2Pac, Snoop & Biggie Wax Beef – Once gain rapper 2pac Shakur has been resurrected from the grave, this time alongside East Coast rival; Biggie Smalls. The quartet of 2Pac, Snoop, Biggie and Diddy, are part of a new exhibition at London's Madame Tussauds Wax Museum. Now the four gangster rappers will remain in an infinite rap beef every night of their posthumous lives. Ben Stiller is said to be currently filming a new children's movie in the exhibit, titled Night At The Museum 5: Trouble At Thugz Mansion.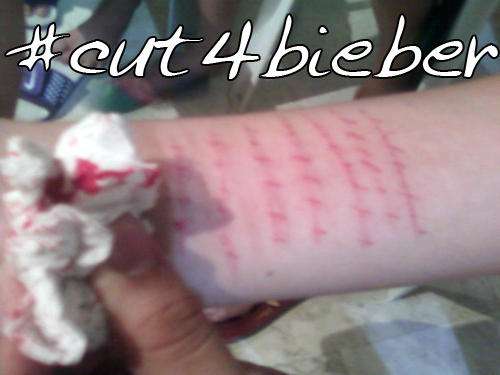 3. #Cut4Bieber - The infamously anonymous message board 4Chan has won the internet again. This time they pulled the ultimate prank on Justin Bieber, and his emotionally dysfunctional 14 year old girl fan base. After TMZ released photos of the teen heart throb smoking a joint, 4chan saw their moment to begin a sinister twitter hash-tag campaign. The #Cut4Bieber topic on twitter was a call to action, to provoke teenage girls to cut themselves and share pictures of the damage, in an effort to get the Biebs to stop getting high. The topic was eventually proven to be a hoax, and the photos stopped rolling in. Unfortunately, nobody died.


4. Like A Porn Addicted Monkey - In a recent zoology study, a female chimpanzee in a Spain zoo, was given remote control access to a TV with multiple channels. What did the chimp end up watching? Porn. Just after a few days of browsing various channels, the horny monkey found the adult programming and continuously went back to it, sometimes watching for hours at a time until her groin was swollen and chafed. Just like humans, chimpanzees live a very sexual life, and even the spectacle of other species porn will peak their interest. Now I don't feel so weird for all my Animal Planet whack off sessions.


5. Man Makes Money In His Sleep Like A True Boss - Lee Hadwin, is an artist who only paints when he is asleep, and has been filling notepads and canvas with his unconscious brushstrokes since he was only 4 years old. This month he plans to cash out and make millions off of the strange condition. He has sustained his life with the drawings since some famous characters such as Donald Trump and Darren Brown have purchased his works. Now for the retirement plan, he is putting the entire collection on Ebay, taking the money and giving half the proceeds to charity. This guy really is living the dream, and drawing it too!


This Week In Camobear
Snak The Ripper 'White Dynamite' Canada Tour
Snak The Ripper is hitting the road this month, across Canada, alongside sultry singer/songwriter Jaclyn Gee, and fellow emcee Merkules. Check out the dates below and visit our TOUR PAGE for more information by clicking HERE.
This Week In History
Albert Fish Is Executed
 The original Boogeyman; Albert Fish, also known as The Moon Maniac, was executed this week in 1936. Officials believe the old Mr. Fish was responsible for murdering over 10 children and eating their remains. 6 years after the disappearance of a 10 year old girl, the Boogeyman sent the child's mother a letter describing in detail how he killed her and used the meat in a stew he ate for over a week. The letter was traced back to the 66 year old disturbed man. Upon his arrest he admitted to killing and eating several other children. A psychiatrist who examined Fish stated, "There was no known perversion that he did not practice and practice frequently." Albert Fish was obsessed with sadomasochism. He had his own children hit him with a paint-stirrer and a hairbrush; they also witnessed him hitting himself with a paddle studded with nails. He inserted sewing needles into his body, and nearly 30 needles were found in his groin area after he told the psychiatrist they were there. Fish also ate his own excrement and burned himself with hot irons and pokers. To make the legend even more insane, it took twice the amount of usual electricity to kill the man. WTF!?
This Week In Cariboo
Flip N Comedy @ Olympia Pizza
---