What's Crackin': Threesomes & Sith Lords
This Week In Stuff
Jar Jar Binks : Sith Lord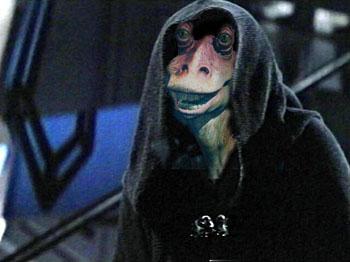 You may think you're ready for the new Star Wars film, but there's no way you're ready for this insane fan theory that's got the internet abuzz. With rumors already floating that there's a chance of an evil Luke Skywalker, one Reddit user ushered in the idea of an even more villainous twist, what if Jar Jar Binks was the ultimate Sith Lord all along? That's right, the bumbling idiot that almost single handedly tanked the entire franchise was quite possibly meant to be the true Phantom Menace. Before you chalk this theory up to just a crackpot reading too far into things, he also includes gif's from the movies and proof that Jar Jar was not only on the dark side, but is quite possibly the main conspirator behind everything, in fact Emperor Palpatine may have been his puppet all along. Perhaps this is all just an elaborate rouse to trick people into watching episodes I-III again. At least this idea might make them somewhat enjoyable. Meesa Evil! Don't believe me? Read the original article here: https://www.reddit.com/comments/3qvj6w/
---
Tinder For Threesomes
Are you and your partner ready to take things a step further, but finding it difficult to meet a trustworthy person down to Eiffel Tower your significant other? Well have no fear 3nder is here. It is like common hook up apps such as Tinder and Grindr, but focused on those with a kinkier taste in things. Well this I've got to see. A safe and easy approach to finding others around you that are open minded in the bedroom, and okay with a little DP and A2M on the first date. The app is gaining speed gaining an impressive million downloads in its first week, showing that the people need to get laid! Because sometimes you just need a good fisting and it's hard to ask Cheryl from the office to peg you in front of your wife when you have to face each other on Monday morning. It's a whole new world Ladies and Gentlesluts. Welcome to 3nder.
---
Scientist Discovers Proof of Alternate Universes
While mapping out the "Cosmic Microwave Background" or the light that was leftover from a few hundred thousand years after the big bang, scientist Ranga-Ram Chary discovered a mysterious glow emanating from the beyond ancient origins of our universe. Although many scientists believe it is too quick to call alternate universes, Chary herself claims that this glow could very well be the expansion of universes between/within/around ours. In fact she believes this supports the theory that our universe is merely a small region within a super-region all within the same spot. She also points out that this mysterious glow could very well be these alternate universes "leaking" into ours. I mean I believe it, you know we already covered the Berenstein/Berenstain debacle and that's all it took to convince me. I bet it will be as soon as Stan Lee dies all of a sudden the Marvel multi-verse will collide into ours and we'll realize he wasn't just a crazy old jew, but an oracle with visions of the worlds beyond ours. Okay, I'm totally geeking out now because SCIENCE!!!
---
Jon Stewart Signs HBO Contract
For those of us that miss the passion and honesty that came with Jon Stewart's The Daily Show, and have tried our best to accustom to what's his name Noah, and can't get over John Oliver's accent long enough to understand what he's saying, it appears there is hope for us. Proving what a workaholic he really is the true news vet has just signed a four year contract with HBO. However, instead of headlining a nightly news program he will be signing on to create shorts and other digital content for HBO streaming services such as GO and NOW. This is great, so instead of him having to come up with issues every night it will be like we'll get special little Jon Stewart easter eggs every once in a while when things get real bad. No matter how crazy the news gets, just when I'm ready to rip my hair out and give up on humanity, Stewart lifted us up with sensibility, honesty, and good jest. All the quality aspects that the writers here at What's Crackin' don't give a sh!t about.
---
Hipster Horoscope
Week 48: The Death of Ivan
The Tolstoy novelette, The Death of Ivan Ilyich, starts out with a judge announcing the death of another judge, Ivan Ilyich to a group of even more judges. The group of judges reaction to this news is surprisingly cold and self serving, "thank God it wasn't me" and " There may be promotions."
Ivan was a prominent judge and powerful magistrate as well. He had a long career and was ever climbing the ladder of success. He was proper professional and distant from his family emotionally. The story begins with his death announcement, moves to his funeral where family members have concerns about their own profits from his demise and at the funeral we meet Ivan's bed nurse who is not at all in mourning. He offers an old piece of YOLO wisdom, "Everybody is going to die, eventually." and shrugs.
The story then blasts back to the past thirty years and we watch him build his career, accumulate wealth, and further distance himself from loved ones. One day, he is hanging curtains and he slips off the ladder and injures himself. The actual nature of the injury is illusive but pain increases gradually until Ivan is bed ridden and absolutely miserable. He has nothing to do but examine his life, accomplishments and relationships and he is very angry, bitter and dissatisfied.
The calm and neutral wisdom of his bed nurse, a peasant youth, helps Ivan to shed new light on his predicament. From the peasant, the rich man learns that maybe he had not been living an authentic life as opposed to "live, love, laugh" and this has left him with a fierce fear of death. Over time the old man has nightmares of death and horrid fears until he works through this helpless floundering with the aid of his nurse.
Finally, the old man dies but by that time he is ok with it, He has accepted the reality and by his acceptance has "abolished death", removed the darkness from the idea and simply gone to his destiny unburdened. He says
"And death…where is it?" He sought his former accustomed fear of death and did not find it. "Where is it? What death?" There was no fear because there was no death. In place of death there was light. "So that's what it is!" he suddenly exclaimed aloud. "What joy!"…"It is finished!" said someone near him. He heard these words and repeated them in his soul. "Death is finished," he said to himself. "It is no more!" He drew in a breath, stopped in the midst of a sigh, stretched out, and died.
My Sparknote breakdown does not do the story justice and I suggest you read it yourself. Much like Ivan nullified his own death, I have savagely diminished that which is epic "Tolstoy" but I simply wish to point the reader in their own journey of death defeating self discovery.
Live an authentic life. Say stupid cliches like "No Regrets" and "To Infinity and Beyond" and live it up in a positive, productive healthy manner. Know that you are going to actually die someday and live like someone who is mortal, temporary and just passing through. Leave great things in your passing and don't worry about life's end. . Because Goonies never say "Die"
---
New Music This Week
Talib Kweli & 9th Wonder – Indie 500
---
Seal – 7
---
The Neighbourhood – Wiped Out